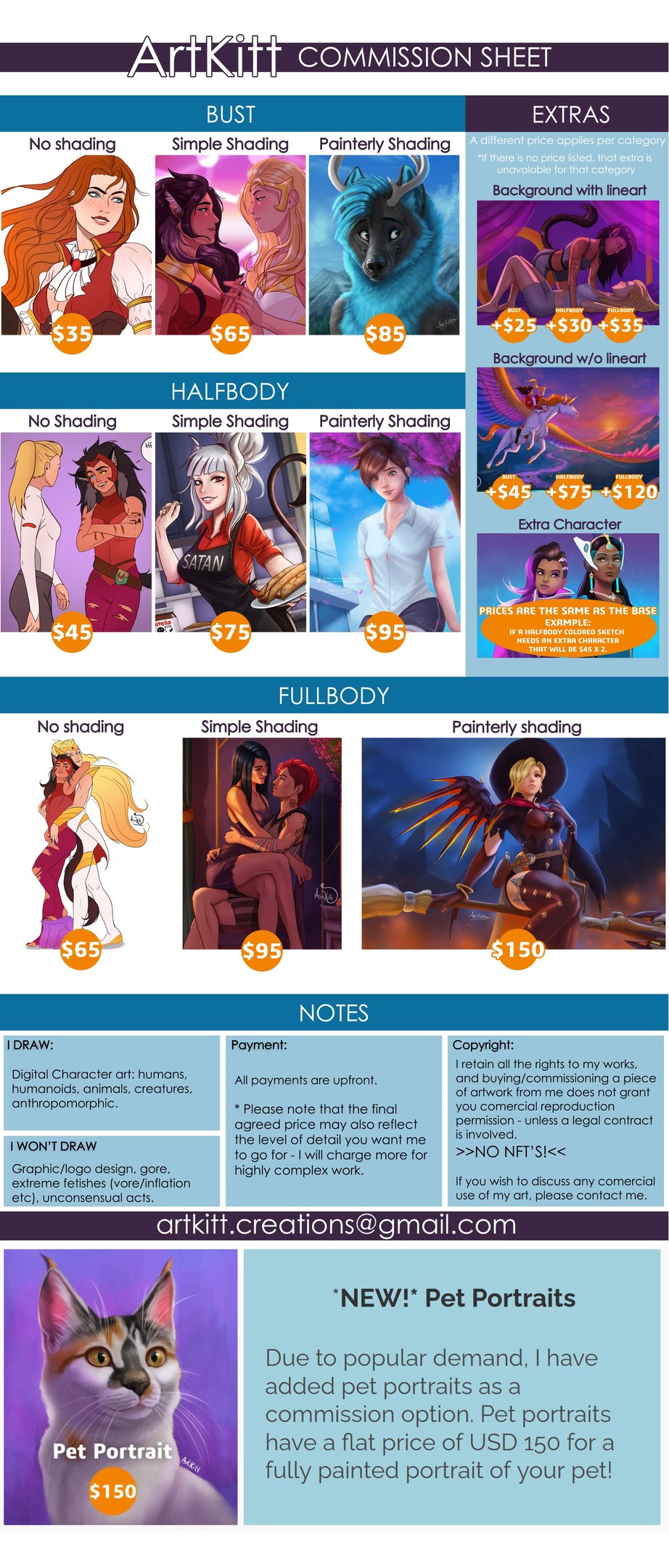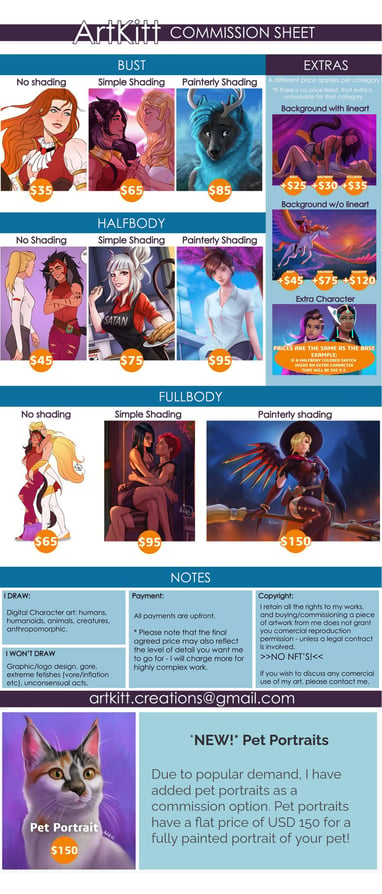 Detailed Commission Information:
This is a bit lengthy, but I would appreciate if you went over it!(It covers how to order a commission, what I do and don't, payment info, additional commission sheet details, and how my art process works)

How to order a commission:

I have a google form that you can fill out here: [ FORM LINK ]

The form is closed unless I open up slots for commissions. For opening info you can either email me or check my socials.

What do I draw:

Character artwork - I primarily draw women, but I can also draw humanoids,animals, fantasy creatures and anthro characters. Human/humanoid male is fine too.

I will NOT draw:

- Real-life people, gore, still life, vector art, graphic/logo design
- Violence, blood letting (minor scratch/bite marks are fine), or any kind of unconsensual acts
- Extreme fetishes (stuff like vore/inflation)

Regarding art trades and requests:

I am open to art trades and requests but I am not obligated to accept them.Usually reserved for special occasions, or in form of art raffles, contests, birthday gifts for friends, etc.

Payments:

All payments are upfront.

The prices listed in my commission sheet are starting prices, and they may vary depending on the size and complexity of the image, and how much time it took for each painting to complete. A full render with a background and a character may rise up over $200/$300 or more if's extremely demanding and takes a few weeks to complete - this will however depend on what you want me to do with it, and how far you want me to take it.
You are in full control of the final price, I will only present you with options if you request so.
Most commissions end up costing as much as is stated in my commission sheet. As soon as the piece is finished, you will receive a full resolution image with my signature via email.

Commission Sheet details and explanations:

Difference between simple and complex background:

Simple background can be anything from a colored backdrop to more complex shapes/environments and scenes, like indoors or outdoors. I usually leave the line work on with occasional paint-over for certain elements.A complex background is typically without the line work - it has been painted over.

Busts:

A bust is a drawing/painting of a character's head, neck shoulders and chest.Halfbody:A halfbody is a drawing/painting of a character from the waist-up OR from thigh-up. Please state which option are you going for when commissioning.

Fullbody:

A fullbody is a drawing/painting of the entire character body. In some cases, feet or other extremities like hands may go out of frame if the composition of the image demands it/clients wishes for it. Please state if you want the 100% of the body shown in your commission or not.

Colored Sketch:

A colored sketch is a drawing in which the linework has been filled with flat colors with NO shading. I may add simple color gradients or "noise" to the drawing.

Simple Shading:

A drawing in which the linework has been filled with flat colors and then shaded,with the lineart left untouched. Basic shadows, key lights, reflection lights and colored shadows are also applicable in this type of work. How complex or simple it will be depends on the idea/your wishes.

Full Shading:

A full shading, or a painting, is a fully rendered piece in which no linework remainsand everything is shaded to crisp detail. Brushes used will depend on the type oftextures I am rendering, be it fur, leather, metal, skin, or similar. A full painting has amultitude of shadows and lights depending on the atmosphere, mood and the environment

Art Process:

If you're ordering an artwork of an existing character (fan art), your own personal character, or something inspired by real life animals, please provide me with as much references as you can.
References include: photos, reference sheets, other artworks, your previous commissions.
If you cannot provide references, please be as descriptive as possible.I don't require a visual reference of your character if you're giving me artistic freedom to draw something from my imagination, for example: "draw me a portrait of a blue dragon with yellow eyes and white beard". I may charge more if the process of creating a character is long or demanding.
Please communicate your wants and needs, especially in the early stages of the sketch, where making alterations and changes is the easiest.
You will be updated every step of the way, from start to finish. For me it's important that the process of creating something together is enjoyable and fun, and I urge any potential client to engage, isn't afraid to express a dislike or like towards the direction and that he/she understands the responsibility of cooperation and replying often.
I will do my best to create your work as fast, and as best as I can - if there are delays due to technical difficulties or any other problems, I will always inform you. I extremely value your patience and understanding.

Please note that by commissioning me you are agreeing to my Terms of Service!

Thank you very much for reading, and I look forward to working with you!